I have been playing music for a long time on a hobby basis. My 'career' started on guitar, but I quickly moved to the piano/keyboard/synthesizer. I have played rock, funk, jazz and fusion. Here is a list of bands I played in, even if just briefly.
Bands
Beats & Bubbles (2012 - now)
A jazz quintet formed in 2012. We play jazz standards in our own interpretations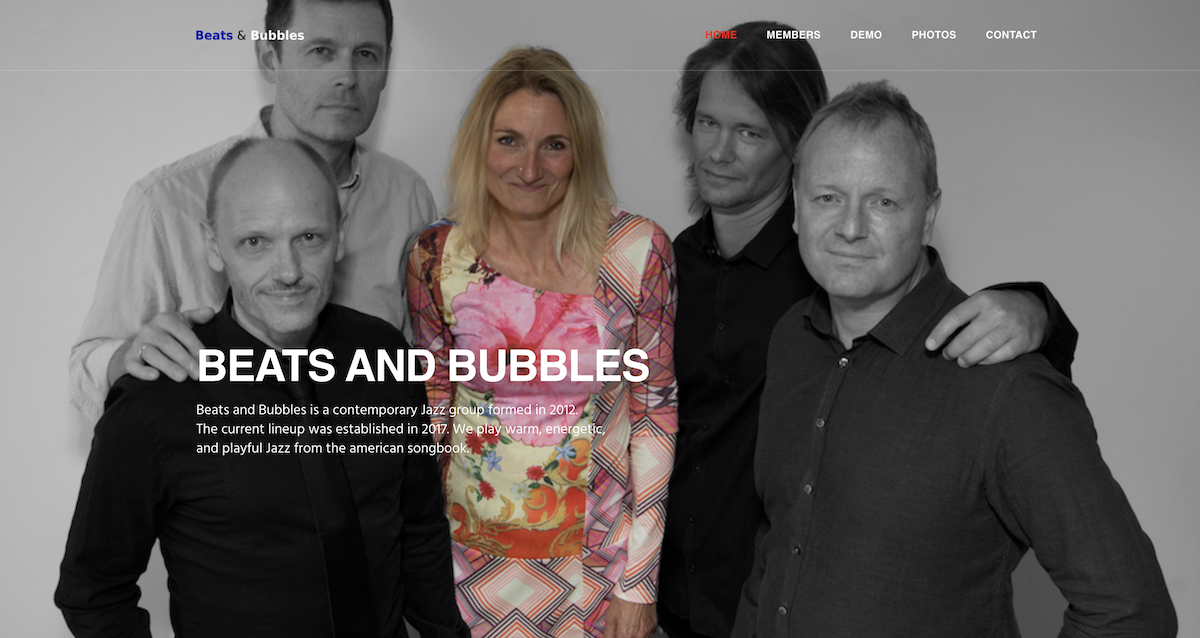 Nearly current lineup. Photo: Mogens Mosegaard Nielsen.
Dansk Fusions Kompani (2012-2013)
Finn Frost (guitar), Jens Peter Brodersen (drums), Morten Vittrup (bass)
Trying to get back into some fusion. This band never took off despite having some really good musicians. We played Larry Carlton, Wishful Thinking, Mike Stern and Santa Cruz along with some own compositions.
Chromatones (2004 - 2009)
Rikke Bjerre (percussion), René Damgaard (guitar), Kim Varde Lassen (drums) and Anders Løchte Nielsen (bass).
After many years of passively enjoying music and raising three kids I decided to get serious. I started practising more systematically and was very fortunate to find four very talented people with the same interests. Chromatones was pure homegrown jazzfusion and we all pushed each other to the limit. I certainly learned a lot and developed a lot of technique and confidence during these years. Chromatones only played live less than ten times, three of which were at Krudttønden in Copenhagen. We made two digitally recorded and mixed demos in the rehearsal room at Virum Gymnasium. Initially playing covers, but eventually we developed our own repertoire.
Playing a gig at Krudttønden in 2009.
The Dark Ages (1992 - 2004)
Nothing substantial happened between 1992 and 2004 music wise. I was very busy getting my university degree in engineering and my PhD in physics, getting married, starting a career, buying a house and producing offspring.
Matchpoint (1990-1992)
Esben Elvstrøm (drums), Peter Sinding (guitar), Henrik Kunz (bass)
Together with Esben Elvstrøm (drums) and Peter Sinding (guitar) we formed Matchpoint. Matchpoint was mostly a jazz fusion coverband with a few home made compositions. After a short period with a bassist who didn't want to continue we were joined by Henrik Kunz (bass). With this band I made it as far as Århus for a gig and once in Hånd i Hanke. I was really the least competent in this band but for some reason they put up with me ;-) My engagement with Matchpoint ended when I went to Oxford to study fusion - the physics not the music.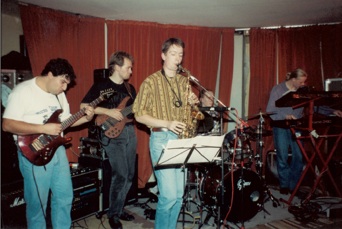 Playing at Hånd i Hanke with guest saxophonist Jakob Elvstrøm.
Bikiniband (1990)  - studio projects
Christian Kornerup Hansen (guitar) and Henrik Lisby (bass).
Overlapping with Matchpoint I came to know guitarist Christian Kornerup and bassist Henrik Lisby. These guys were masters of studio projects. Their inspiration was from Lee Ritenour, Rippingtons etc. and the harmonies they created were sublime. The tools used was an Atari microcomputer and the drums were made with an old Korg MIDI drum machine which unfortunately made the sound a little monotonic - but certainly better than no drums at all! I joined them a weekend in Henriks cottage to lay out keyboard on Mr. Briefcase by Lee Ritenour. I think it came our very well. I also met Mette Lisby who was Henriks cousin. She was a singer then, but later she became the best female stand up comedian in Denmark. Christian now lives in USA, Henrik in Jakarta (he sadly died in 2019) and Mette in USA. I however still live in Copenhagen - never got further than Gentofte.
Nuds (1989)
Christian Forné (drums), Thalie Dror (vocal), ??? (bass+vocal), Peter Sinding (guitar)
A short band experience. I responded to an ad in a local newspaper: A band had won a competition and with it, a demo recording and a performance at Musikcafeen i huset in Magstræde. Only problem was that the female keyboard player was locked away in a mental institution only 21 days before the concert. I had a very busy christmas trying to learn the 21 compositions. The genre was sort of dark rock and I was well aware that I didn't want to continue but would like to help them with the concert and the demo recording. The recording was at SB studio which belonged to Søren Bundgård a danish pop singer. I remember Søren had a hard cold but he was a very competent producer and knew his recording equipment well.
Squid/t (1988-1989)
Allan Mikkelsen (guitar), Jannick (guitar), Tipper (vocal), Viktor Lykkesten (bass), Steen Holm (drums)
The first band where I actually played a paid concert. By some lucky coincidence and a small part of nepotism we were engaged in the translocation in a Copenhagen school. We were paid an outrageuos amount of money for this, but I don't recall actually seeing any of it or even caring about it. We were mostly a funk band with inspiration from Mothers Finest, Level 42, Hiram Bullock and the danish band Cox Orange.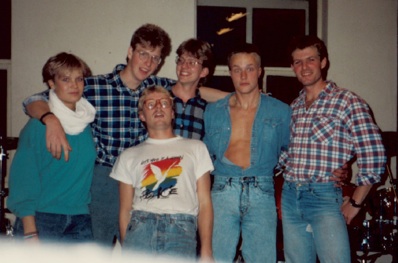 Lumberjack shirts, Greenpeace t-shirt - ahh the 80's
The "Forgotten" Band (1989)
A Saxophone player, and Esben Elvstrøm (drums), Peter Sinding (guitar) and a brazilian singer
I can't remember much of this except we made a demo recording. As far as I remember this project died after a few months.
Afterbeat (1986 - 1987)
Steen Holm Olesen (drums), Allan Bay (bass), Henrik Mortensen (guitar)
At Greve Amts Gymnasium (GAG) I was studying at the music line. I also met a very gifted guitarist Henrik  Mortensen who introduced me to some of the fusion icons and classics: Chick Corea, John Scofield, Herbie Hancock, etc. We started a band called Afterbeat in 1985. Afterbeat consisted of myself on keys, Henrik Mortensen (guitar), Steen Holm Olesen (drums) and Allan Bay (bass) and in the last period of the band's life we were joined by jazz singer Stina Lange. Initially we played a lot of cover fusion, but soon both Henrik and I started composing our own music. Henrik was very happy with changing time signatures (one tune was called fancy bar blues) and I had a passion for changing key so we supplemented each other well. Many years later I learned that Henrik had committed suicide which I was very sad to hear as he was a very lovable person with a good sense of humor and a pleasant personality. I later dedicated my composition Fancy Bar Blues II to his memory.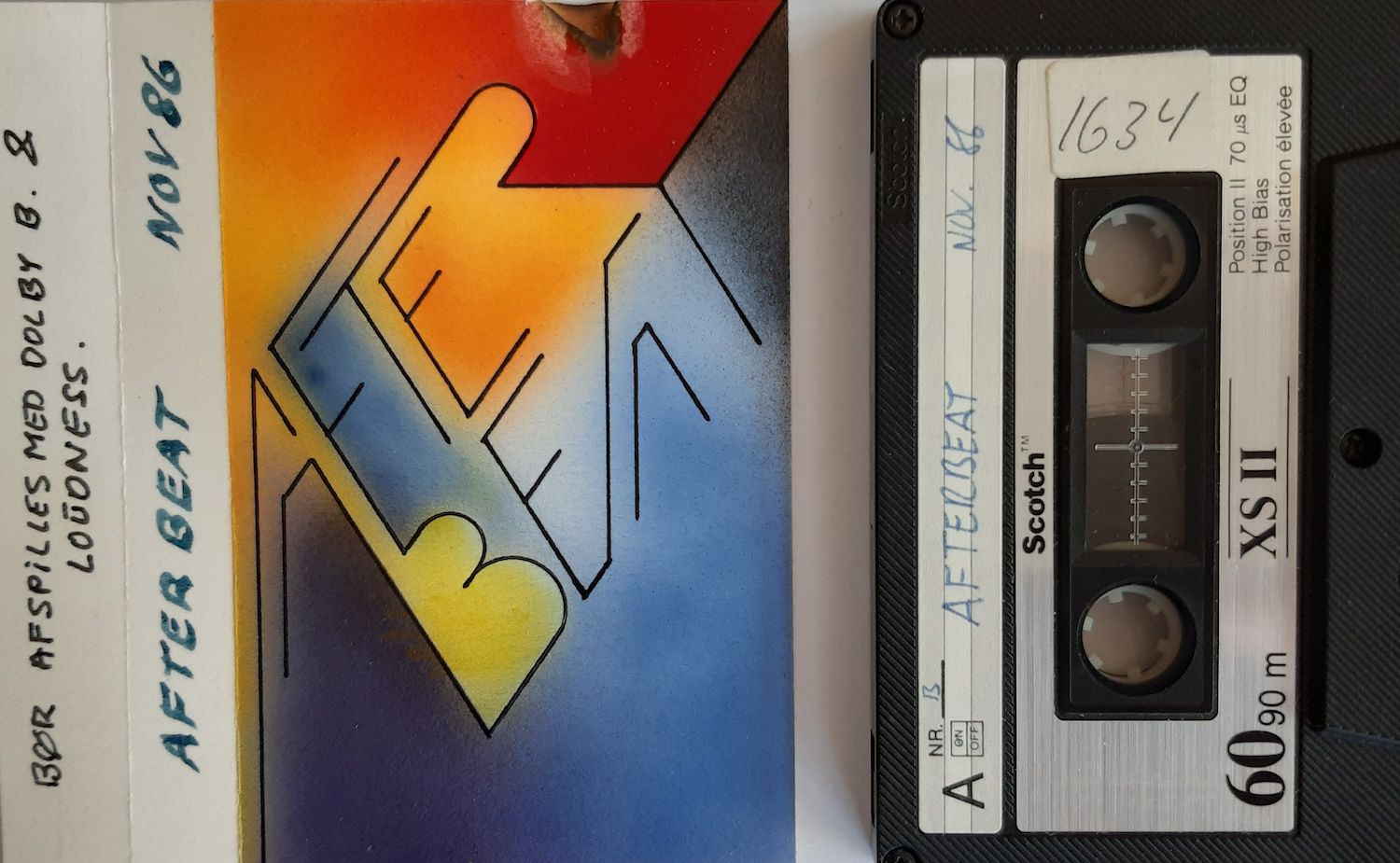 Cover for our demo casette tape, hand made by my father using airbrush.
Direct Current (1983 - 1984)
Richard Kristensen (drums), Bjarne (guitar), Louis (bass)
Initially based on four electrical guitar this band must have been taxing on Bjarnes parents in whose basement we rehearsed. I later changed to keyboard, Richard to drums and Louis to bass. The music was a mix of cover and home grown rock. Smoke on the water and Industrial Disease are the covers I remember.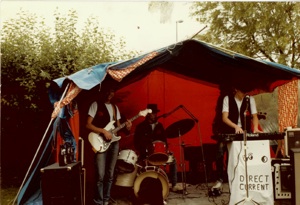 Playing at a 25 year wedding anniversary.
Tjørnelyskolens big band (1981 - 1982)
Guitar player in the public school Tjørnelyskolens big band. We actually did a lot of gigs (but of course we played for free). Ole, our teacher and band leader was very good at getting us out. Also being part of a large ensemble was a gentle introduction to playing live.