Current gear
Korg Triton Le - has some nice sounds good for soloing, but a little wanting on piano sounds.
Roland RD2000 - very cool stage piano with great sounds.
Keyboard stand - K&M Spider Pro
Speakers - FBT MaxX 2a 12" active speakers.
Mixers - Behringer UB1622FX-Pro, Behringer Xenyx 802
Microphones - AKG C1000S (x2), Behringer C1, AKG D660S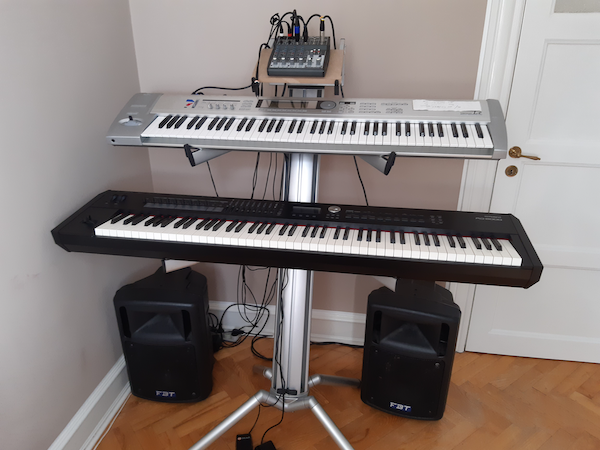 Current setup. Not the greatest cable management skill.
Gear I've owned
Roland JX 3P -My first synthesizer was a Roland JX-3P one of the earlier digital synths.
Roland Sampler - Tried adding some sampled instruments but it wasn't very good.
Roland D-50 - A substantial improvement as it was touch sensitive and had built-in reverb etc.
Yamaha DX7 - bought a used DX and I really loved the hard keyboard sounds, had to add a flanger to make stereo effekts though
Alesis Nano Piano - a small MIDI box with many piano, e-piano and keyboard sounds, a very good supplement to the Korg.
TC Electronics Flanger - used in combination with the DX7 for a richer sound.